ENISA Ad Hoc Working Group on SOG-IS MRA successor certification scheme"
The future of the Common Criteria in Europe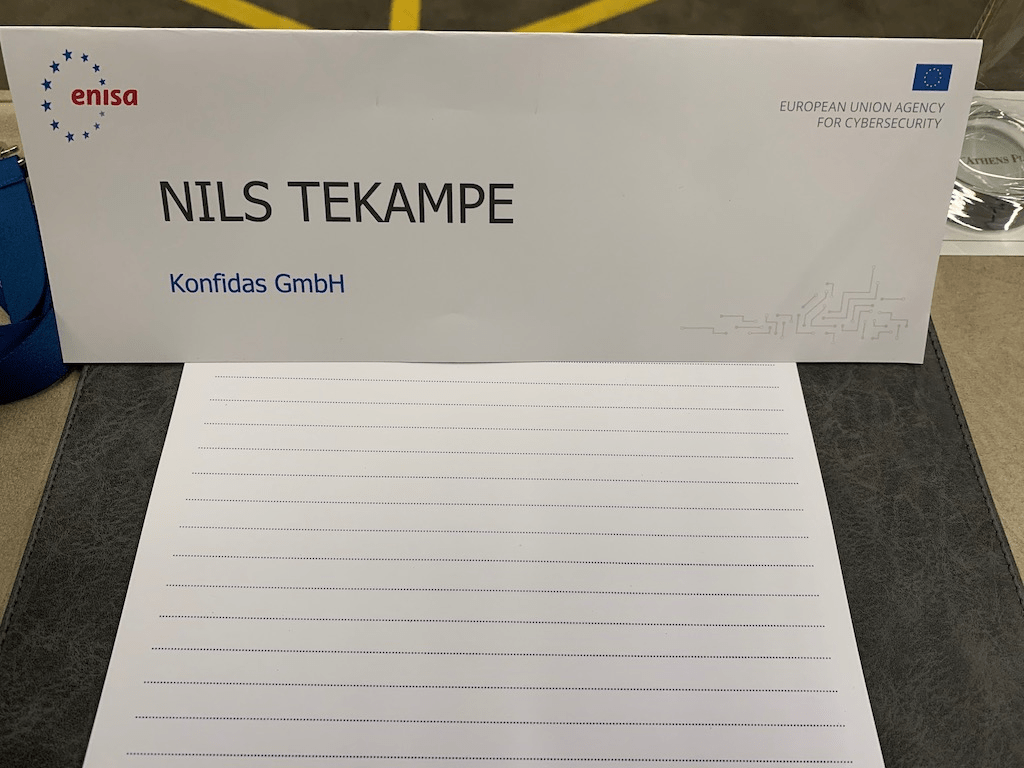 The ENISA ad hoc WG on the SOG-IS has held its kick off in Athens and therewith officially started working. Nils Tekampe is amongst the selected experts who support ENISA in developing the successor of the SOG-IS Common Criteria scheme in the context of the Cyber Security Act. We are looking forward to support ENISA in this important task of shaping the future of certification schemes in Europe.
About konfidas
konfidas is supporting their customers in the area of IT-security, IT-assurance and general IT. Following the slogan: konfidas UG – passionate about security! Our experiences regularly even exceed the need of our customers. For new experiences we stand with all our know-how.
About ENISA
The European Union Agency for Cybersecurity (ENISA) has been working to make Europe cyber secure since 2004. The Agency is located in Athens, Greece and has a second office in Heraklion, Greece.
ENISA is actively contributing to European cybersecurity policy, supporting Member States and European Union stakeholders to support a response to large-scale cyber incidents that take place across borders in cases where two or more EU Member States have been affected. This work also contributes to the proper functioning of the Digital Single Market.
The Agency works closely together with Member States and private sector to deliver advice and solutions as well as improving their capabilities. This support includes inter alia:
the pan-European Cybersecurity Exercises,
the development and evaluation of National Cybersecurity Strategies,
CSIRTs cooperation and capacity building,
studies on IoT and smart infrastructures, addressing data protection issues, privacy enhancing technologies and privacy on emerging technologies, eIDs and trust services, identifying the cyber threat landscape, and others.
ENISA also supports the development and implementation of the European Union's policy and law on matters relating to network and information security (NIS) and assists Member States and European Union institutions, bodies and agencies in establishing and implementing vulnerability disclosure policies on a voluntary basis.
Since 2019, following the bringing into force of the Cybersecurity Act (Regulation 2019/881), ENISA has been tasked to prepare the 'European cybersecurity certification schemes' that serve as the basis for certification of products, processes and services that support the delivery of the Digital Single Market.
The European Cybersecurity Act introduces processes that support the cybersecurity certification of ICT products, processes and services. In particular, it establishes EU wide rules and European schemes for cybersecurity certification of such ICT products, processes and services.